If you are considering having Invisalign treatment, you may have questions. You might wonder what are some of the benefits of Invisalign and if they are better than the traditional braces. A local orthodontist is your best bet to answer these questions and get you started on your treatment plan.
Invisalign clear aligners – Invisalign instead of braces
When individuals are considering orthodontic treatment, their minds will often go to Invisalign clear aligners and then they will start seeking out advice from their local Miami orthodontist for braces.
You are likely to also have questions. How good is Invisalign for teens adults little smiles? Is it a good treatment plan? Can the align technology help everyone? Many times people wonder about these questions as unless you've already had orthodontic work done before, you may be totally new and have no idea what you can expect. The good news is that Invisalign technology is a tried and true orthodontic treatment and is one that has only gotten more popular over the years.
Before we answer these questions and more, let's take a look at what a few of the experts in orthodontic medicine have to say about Invisalign.
Clear aligners like Invisalign are an aesthetically pleasing and comfortable option for orthodontic treatment (Tamer, İ et al.,2019).
Invisalign treatment has gained immense popularity over the last decade because of their advantages over conventional treatment (Tamer, İ et al.,2019).
Invisalign treatment facilitates oral hygiene and causes less pain compared to fixed orthodontic appliances (Tamer, İ et al.,2019).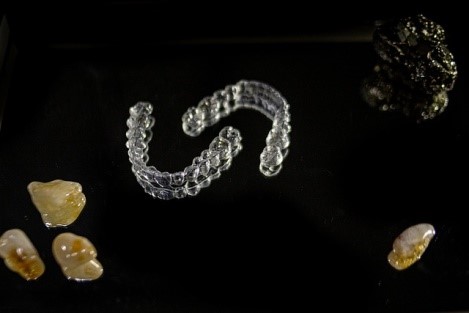 What are the various types of braces? Invisalign braces
Braces come in three main types. The first type is traditional metal braces. Traditional metal braces are the braces that everybody thinks of when they think of the word braces. These are made of metal brackets that attach to the front of the teeth and utilize a thin metal wire. The primary benefit of these is that they can work quickly and they are the cheapest of all orthodontic treatments. Of course their main drawback is their high noticeability and low aesthetics.
The second most common type of braces are ceramic braces. Ceramic braces attempt to fix the aesthetic issue by utilizing tooth colored ceramics. These tooth colored ceramics can be shaded a variety of colors including white, ivory, and even porcelain. This means that there will always be a shade that will match your teeth helping to make the brackets far less noticeable. When combined with clear bands this type of braces can be fairly unobtrusive and comes at only a minor cost increase over traditional braces.
The last type of traditional braces is lingual braces. Lingual braces attach to the back of the teeth instead of the front of the teeth. Because of that, lingual braces are totally invisible. This highest level of aesthetics can be great for many people who value aesthetics. However, that value does come at an increased price and it is over twice the cost of traditional metal braces. They can also take longer to install due to the fact that they must be installed to the back of the teeth.
How are clear braces better than traditional metal braces? And do invisible aligners really work?
This brings us to clear braces and align technology. Clear braces, sometimes called invisible braces, are an excellent choice for many people and they do work exceptionally well. The most common brand is Invisalign. However, there are some caveats. As you may have noticed with the other braces, they have pros and cons which is why different styles and varieties still exist.
So let's take a look at the pros, namely how are clear braces better than traditional metal braces. They are better in two primary regards. The first is they are far less invasive as clear braces like Invisalign attach to the teeth by clipping over the teeth and so are far less invasive. This minimal invasiveness can be huge for individuals who are frightened of the orthodontic office or simply do not want to have something permanently attached to their teeth. This ability to take the braces off is a huge boost to people and lets them feel that they are in control of their orthodontic treatment.
The other main benefit is their high level of aesthetics. The fact that they are clear trays means that Invisalign is far less noticeable than even ceramic braces.
What are the benefits of invisible braces? Invisalign dentist near me
As mentioned before, the two benefits of Invisalign or other clear braces types are that they are nearly totally invisible which gives you an exceptionally high level of aesthetics and as such they are great for teens and adults who value their aesthetics far higher than elementary school children.
The other major benefit to clear braces is their minimal impact which we mentioned earlier which means that you can take them off whenever you want to brush your teeth or floss instead of having to work around orthodontic equipment.
Another rarely talked about benefit is the fact that they are nearly the exact same price point as ceramic braces. So while ceramic braces work faster than Invisalign, Invisalign is less invasive and offers a higher level of aesthetics than even ceramic braces do.
Of course even though they are removable it is a requirement that you must wear them for a minimum of 22 hours per day for your orthodontic treatment to be effective. This means that you should only take them off for meals and brushing your teeth. If you're not brushing or eating, they need to be on; otherwise your treatment will be slower or far less effective.
Are Invisalign braces good? And can I see results after only a 6 month Invisalign treatment?
Whether you will see results after only 6 months of Invisalign treatment is something that only your orthodontist could tell you. The fact is orthodontic medicine is incredibly individualized and while there are many individuals who may see results within 6 months, many more will not.
However, the answer to the first question is an unequivocal yes. Invisalign braces are fantastic braces for many individuals. Not only do they have a high level of aesthetics which is important to many people, but their price is quite affordable, they have minimal impact as they are removable, and they are not as invasive as other types of braces. In addition to all of these pros, the fact is most adults just like them better since they give them greater freedom and a higher level of aesthetic quality.
Invisalign are excellent braces that are easily able to help treat mild to moderate orthodontic corrective issues. While advanced problems will still likely need to be fixed utilizing bracket and wire braces, if your issues are minor or even moderate, the Invisalign system has advanced to a state that it can offer higher treatment quality for more issues with less impact and greater comfort than ever before.
Talking with your orthodontic office will let you know whether you are a good candidate for this kind of treatment and if Invisalign can help you get the smile you have always dreamed of.
Reference:
Tamer, İ., Öztaş, E., & Marşan, G. (2019). Orthodontic Treatment with Clear Aligners and The Scientific Reality Behind Their Marketing: A Literature Review. Turkish journal of orthodontics, 32(4), 241–246. https://doi.org/10.5152/TurkJOrthod.2019.18083
Contact us:
IVANOV Orthodontic Experts, 12866 Biscayne Blvd, North Miami, FL 33181
https://www.google.com/maps?cid=154326063970645489
Call us at (786) 540-1919 to schedule a free orthodontic exam.
Learn More about Crooked Teeth | Generally Straighter Teeth at
Crooked Teeth | Generally Straighter Teeth and Invisalign Braces Cost