Now that you have gotten your braces off, you will have a variety of options for retainers. You may be a candidate for permanent retainers, and you may wonder about caring for them, including flossing with permanent retainer. You also no doubt have a lot of questions. These may include: how to floss with a permanent retainer? What are floss threaders, superfloss, water flossers or a Waterpik? How Often Should You Floss?
We'll answer these questions and more, but before continuing, let's hear from of the experts in orthodontic medicine.
Orthodontic retention is defined as maintaining teeth in optimal aesthetic and functional position after treatment (Kartal & Kaya, 2019).
It is essential to have a retention phase after an active treatment period (Kartal & Kaya, 2019).
The application of a suitable retention method is important both for prevention of relapse after orthodontic treatment and for increasing patient satisfaction (Kartal & Kaya, 2019).
Many individuals who have a permanent retainer have begun to notice a significant problem, flossing! You may know that it is absolutely essential to floss on a regular basis, but having a permanent retainer can make it significantly more difficult to maintain simple dental cleanliness and hygiene.
It is because of this reason that individuals who have a permanent retainer often struggle to clean their teeth adequately and will often end up with food stuck either on their orthodontic appliances or between their teeth. This can lead to a host of dental issues and complications, not the least of which is halitosis or bad breath. However, while it can be difficult flossing permanent retainer, there are many different tools, techniques, and methods that will assist in overcoming this problem.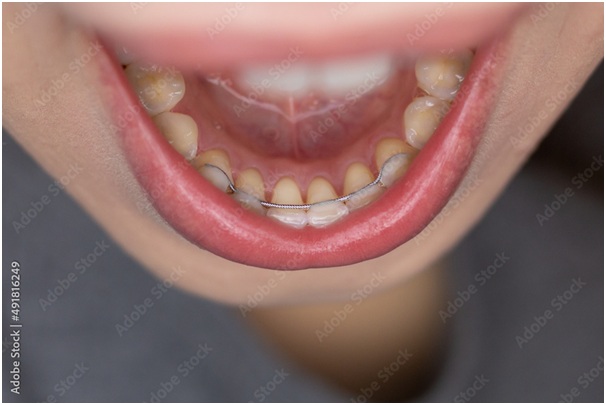 How to Floss a Permanent Retainer Using Floss Threaders?
The first simple tool is a floss threader. Knowing that you cannot bring the floss up to the gap in your teeth, as that is blocked by the permanent retainer, a floss threader instead is a rigid piece of plastic which can instead be used to pull, or push, your floss above the retainer into the gap so you may then pull the floss from the other side and floss your teeth. This must be repeated with each tooth and canbe time-consuming; however, this is by far one of the cheapest and most readily available options.
Essentially think of a floss threader like aorthodontically hygienic needle for pulling the floss thread between your teeth. It is not painful, very efficient, and they often come in large packs for individuals who will be wearing their orthodontic equipment and doingpermanent retainer flossingfor the foreseeable future.
How to Floss a Permanent Retainer Using Superfloss
In addition to using floss threaders, you may also opt to utilize superfloss. Superfloss is a fantastic option as not only does it do everything that floss can, it also does some stuff that floss cannot. Due to its strength and shape, it can also be highly useful in helping to clean your braces or permanent retainers. This is very important as it can sometimes help remove an additional step of orthodontic hygiene that many individuals must put up with.
Traditionally, an individual may clean their retainers then floss their teeth as two separate steps. However, with the use of superfloss, and depending on your individual orthodontic needs and condition, you may be able to save some time doing both together. As anybody who has had the need of wearing permanent retainers knows, anything that can help save time is a huge win.
Superfloss has a stiff end to fit under the wire and between the teeth, and then it has a thicker spongy center that helps scrub as it passes through, with regular floss behind it for regular flossing.  The pieces are precut for convenience.
How to Floss a Permanent Retainer Using a Waterpik or Water Flosser?
By far the single easiest and most popular option is the Waterpik. While more expensive than either superfloss or a floss threader to buy initially, you will likely find, like most individuals do, that its speed, efficiency, and longevity more than make up for the cost in the short-term.
This is because of two factors – one, it's incredibly easy to use. A Waterpik is essentially a tiny little pressure washer for your mouth. It is hygienically safe, easy to use, and can be directed with various head settings to help clean and wash your teeth, the gaps between, and flush out any food that may have become attached to your retainer or braces.
This means that it is able to utilize high pressure water jets to simply wash away everything. If you choose to put some dental additives like a bit of mouthwash into the reservoir, you will have the additional benefit of helping to clean the area in a dentally hygienic way. Waterpiks are extremely popular and since they last so long, one Waterpik often lasting years or decades, they will easily become your new favorite way of flossing your teeth and getting rid of your old dental floss or floss threaders.
How Often Should You Floss?
If you wonder how often to floss for permanent retainers,it largely depends on your individual needs. Most dentists will recommend flossing at least once a day, although some may recommend more and some less. Flossing is important to make sure that the gaps between teeth are kept clean, especially those gaps which are not easily accessible via brushing. Following up brushing one's teeth with a Waterpik or flossing is a great way to enhance your dental hygiene habits.
Talking with your orthodontic office about your particular needs, how often you should floss permanent retainer, and the best techniques and strategies with the technology that is available can be a great way of determining what type of flossing will be best for you. Since you already have to go to your orthodontic office for your permanent retainer, having a chat with them about any brands or methods that they think will be best and easiest for you is a great way to make the chore of orthodontic hygiene one that is simple, easy, and can help make sure your smile is as beautiful as it can be.
If you don't already have an orthodontist, be sure to call us today at 786-540-1919 and schedule a free initial consultation – we look forward to meeting you.
Reference:
Kartal, Y., & Kaya, B. (2019).Fixed Orthodontic Retainers: A Review.Turkish journal of orthodontics, 32(2), 110–114.https://doi.org/10.5152/TurkJOrthod.2019.18080