You might wonder if Invisalign overbite can be fixed by the popular clear aligners. The answer is, yes, many overbites can be fixed by Invisalign. Increased technology means that Invisalign can treat increasingly complex issues. We'll learn more about Invisalign to fix overbite in a moment, but first, let's hear from some of the experts of orthodontic medicine.
The demand for aesthetic treatments is increasing and more people are seeking alternatives to fixed orthodontic appliances (Tamer I et al.,2019).
Clear aligners are an aesthetic and comfortable option for orthodontic treatment for fixing overbite with Invisalign (Tamer I et al.,2019).
Clear aligners facilitate oral hygiene, cause less pain as compared to fixed orthodontic appliances, reduce the number and duration of appointments, and require fewer emergency visits (Tamer I et al.,2019).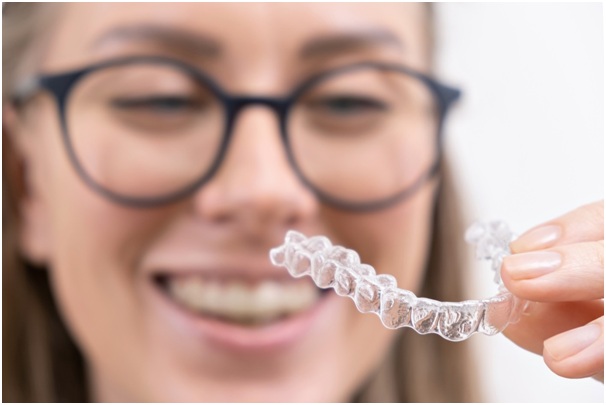 What is An Overbite?
An overbite, as the name suggests, is an over bite. Simply put, it is where your top teeth overhang the bottom teeth. There are many different ways how an overbite can occur. One is by simple genetics but that is not the only way, as there are certain lifestyle choices and habits that can also contribute to the causes of an overbite.
By far one of the most common, especially in children, is the use of pacifiers or thumb sucking for too long. Individuals who suck their thumb or use pacifiers far longer than is common can easily develop an overbite. This is one of the important reasons why it's necessary to meet with a pediatric orthodontist early and talk with them about best orthodontic and oral hygiene habits. Talking with your orthodontic office and dentist will help ensure that your child, even from the earliest age, engages in proper oral health and hygiene techniques.
How Does Invisalign Fix Overbite?
While there are many ways to fix an overbite, such as the use of traditional braces with brackets, by far one of the most common is the use of Invisalign for overbite. Invisalign works the same way that the other methods do – by putting pressure on the teeth, it is able to slowly move the teeth into a new correct position which will no longer cause an overbite but will instead cause your teeth to connect in the correct way.
The treatment is extremely simple, simply clip on the invisible Invisalign aligner to your teeth and ensure that you get the new aligners needed as each treatment phase ends. Once you notice that your Invisalign retainer feels a little bit loose, it's probably past time to go get the next size. Through this method or the process of time, your overbite will slowly, but surely, be treated as your teeth are moved into their new positions.
How Long Does Invisalign Take to Fix Overbite?
The amount of time it takes to fix an overbite Invisalign largely depends on how extensive the problem is in the first place. If you have a very minor overbite then Invisalign for overbite may be able to finish its treatment in as little as several months. If, however, the problem is extensive and has been years in the making and the overbite is extreme, it may take Invisalign many months or years to complete the treatment.
Essentially, the sooner that you can begin to have it treated, the faster it can be done. This is true with most orthodontic problems as the vast majority of orthodontic and dental issues do not go away on their own but require treatment. The sooner one seeks out treatment, the faster the problem can be solved.
What Are the Benefits of Fixing An Overbite with Invisalign?
One of the biggest benefits of fixing an overbite utilizing Invisalign for overbite as opposed to any other type of treatment is its minimal invasiveness. Other types of treatments could include things like orthodontic surgery or braces. Needless to say, a type of orthodontic treatment that does not require anything to be permanently affixed to the teeth, is removable, is clear and so does not affect the aesthetics of your smile, and gives you the freedom to take it out at your leisure is obviously significantly better than having to maintain an orthodontic appliance or have to go under the knife for orthodontic surgery.
The simple fact of the matter is that Invisalign is far easier, more comfortable, and more accommodating while simultaneously being more beautiful and less invasive than any other treatment available for fixing overbite.
How Much Will It Cost to fix An Overbite With Invisalign?
If you are not already sold after hearing about its minimal invasiveness, its easy ability to take off, or the fact that you can brush and floss by simply taking it off and then putting the Invisalign aligners back on, then this will certainly clinch the deal. The simple fact of the matter is that overbite Invisalign is also extremely affordable.
It comes in usually about $4,000, a mere $1,000 more expensive than traditional metal bracket and wire braces. Invisalign often times has the same price point as ceramic braces but with a significant aesthetic advantage.
It is little wonder then why teens and adults who seek to have their overbites fixed often choose Invisalign. While Invisalign to fix overbite may be slightly slower than traditional braces, the aesthetics and the minimal invasiveness are oftentimes major contributing factors as to why an individual will choose to go with fixing overbite with Invisalign over any other type of orthodontic treatment available.
Can Invisalign Fix Overbite?
To answer the question can Invisalign fix an overbite, the answer is if your overbite is a dental overbite then yes. Overbite does come in two different types though, and a skeletal overbite may not be able to be fixed by the Invisalign for overbite treatment.
The only way to know for sure whether Invisalign will be the best option for you and your orthodontic needs is to meet with your orthodontist. Talking with your local orthodontist about your particular needs, desires, insurance or pricing options, and of course the type of overbite Invisalign that you have will ensure that you are getting the best treatment so you can have the smile you have always wanted at a price you can afford.
If you don't have an orthodontist, we'd be happy to talk to you. Give us a call or click the link to set up a free initial consultation.
Reference:
Tamer, İ., Öztaş, E., & Marşan, G. (2019). Orthodontic Treatment with Clear Aligners and The Scientific Reality Behind Their Marketing: A Literature Review. Turkish journal of orthodontics, 32(4), 241–246. https://doi.org/10.5152/TurkJOrthod.2019.18083