In general, braces are a type of orthodontic appliance that help adjust misaligned teeth and jaws. Orthodontists recommend braces for many things such as a bad bite, crooked teeth, more than required space between teeth, overbites,underbites, and more.To define what self ligating braces are, one must first understand how braces work.
When your orthodontist recommends braces, you will have brackets attached to your teeth and a thin metal wire run through the brackets. This wire is called an archwire, which helps to gradually adjust and apply force to move the misaligned teeth into the more desired position.
For braces to be effective, this wire must be securely placed in the brackets, and must remain so for the duration of the treatment.Traditional braces ensure effectiveness by using elastic bands or metal ties to hold the archwire in the brackets. On the other hand, self ligatingbraces have a built-in system that allows the brackets to hold the actual wire itself. This reduces the friction caused by the elastics and allows the wire to move a little more freely, thus doing more tightening between visits to the orthodontist.
There are two types of self ligating braces – active and passive. Active self ligating braces use a sliding spring clip mechanism, which means that they apply force against the archwire.
Passive self ligating braces don't press or apply force actively on the archwire.
Before continuing, here are some things that the orthodontic experts have to say about this great new technology.
Self-ligating brackets have been gaining popularity over the past several decades (Chen et al.,2010).
Some claim that self ligating braces can be advantageous over conventional methods (Chen et al.,2010).
One advantage supported by evidence includes decreased time in the orthodontist's chair(Chen et al.,2010).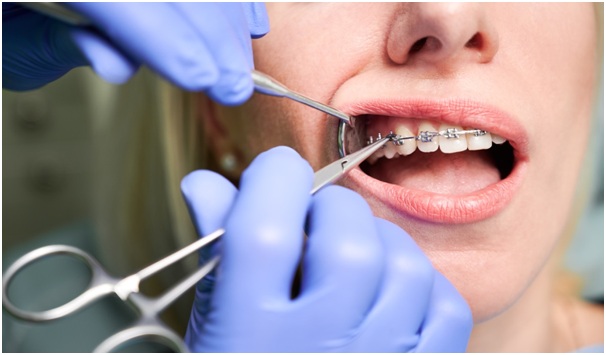 What Conditions Do Self-Ligating Braces Treat?
Speak to your orthodontist about self ligating braces because only an experienced orthodontist can give you a valid recommendation about your specific treatment needs. Self ligating braces can be used for many orthodontic conditions, and might be a good choice for you. For example, if you have severe crowding or spacing issues, or poor bites such as underbites, overbites, or crossbites, you may be able to use self ligating  braces.
However, if you have severe jaw malocclusion or malalignments, self ligating braces may not be good for you. However, it is important to speak to your orthodontist before deciding on self ligating braces or any other type of braces.
Who Should Get Self-Ligating Braces?
As mentioned previously, you should consult your orthodontist before engaging in any orthodontic treatment. This includes self ligating braces. If your orthodontist has examined your mouth and your condition and determines that self ligating braces are good for you, then you can feel confident about getting the treatment. Also as mentioned, if you have severe malocclusions or severe malalignment, self ligating braces may not be the best treatment for you.
Additionally, if you have an orthodontic condition that can be managed by self ligating braces, it is important that you understand the pros and cons of self ligating braces and collaboratively determine with your orthodontist if they are best for you.
Self ligating braces may cause significant lip discomfort initially due to the higher profile brackets that come with them. Also self ligating braces can be highly visible, and may not be as aesthetically pleasing as other non-metal options.
How Long Do Self-Ligating Braces Take?
This is a great question for your orthodontist. The treatment length will be different because different patients have different characteristics, and different orthodontic conditions. On average, you may have self ligating braces for 12 months or it can be as long as 30 months.
It is not possible to give a specific estimate without your orthodontist looking at your mouth and assessing your condition. Your orthodontist will assess your needs as an individual, your dental goals, and other personal characteristics, and might be able to let you know if you can get your self ligating braces off earlier, or if you will benefit from keeping them in for longer.
There are many other factors that can impact the length of treatment. They include your diet, your oral hygiene, and maybe your genetic factors in some cases, in addition to what condition the braces are needed to treat.
How long do self-ligating braces last?
For any orthodontic treatment, or any other medical treatment, to be effective and long lasting, it is important for the patient to follow the recommendations of the orthodontist or health practitioner as closely as possible. This is true for self ligating braces.
One factor that can impact your treatment time as well as the effectiveness of your braces is your diet. It can be challenging to remove certain foods from your diet while you have your braces; however, it is necessary to protect your braces if you want them to do a good job. If you put in the effort to take good care of your braces through a good diet, then you are increasing the chances that your braces will last, and you might be able to reduce your treatment time.
In general, anything that tends to be bad for your teeth, and your oral health, tends to be bad for your braces, too. This can include very hard snacks, high acidic food and drinks, excess sugar, and more.
How Much Do Self-Ligating Braces Cost?
Self ligating braces can vary in cost depending on many factors. In general,self ligating brackets can be more expensive than the traditional metal brackets. Additionally, depending on the problem severity, a patient may need more expensive self ligating braces.
However, on average, the price of self ligating braces can range from anywhere between $3,000 and $7,000. The price might also vary depending on your location and your insurance options.
Self ligating braces may be useful for you. Before making such a decision, you should consult your orthodontist. If you don't have a regular orthodontist, feel free to visit Ivanovortho.com to book a free initial consultation visit and learn more about this exciting new technology.
Reference:
Chen, S. S., Greenlee, G. M., Kim, J. E., Smith, C. L., & Huang, G. J. (2010).Systematic review of self-ligating brackets. American journal of orthodontics and dentofacial orthopedics : official publication of the American Association of Orthodontists, its constituent societies, and the American Board of Orthodontics, 137(6), 726.e1–727. https://doi.org/10.1016/j.ajodo.2009.11.009