How do teeth move with braces?
There are many reasons why individuals may be considering getting braces. Perhaps it is braces for crowded teeth. Perhaps they need braces on crowded teeth due to teeth coming in at an angle, which may also mean the individual will require braces to straighten teeth
Getting straight teeth with braces or needing to fix overbite with braces can actually be quite simple. Whether it is braces for overbite or braces for underbites, you will need to talk with your orthodontist before you consider if you can even fix underbite with braces or Invisalign. Whatever the reason is, it is important to make sure that you're getting the most accurate information you can
One of the big questions that people have is do teeth even move with braces? The simple answer is yes, braces work by exerting pressure on the teeth and if your overbite or underbite is caused by crowding teeth or teeth are coming in at angles, then using either the Invisalign system or traditional braces can be beneficial. They will help move the teeth to their correct position and give you greater room in your mouth, a straighter smile, and removing the underbite or overbite if it is being caused by teeth being overcrowded.
Here are some things the experts of orthodontic medicine have to say on the topic.
Crowded teeth develop when there is not enough space in the jaws into which the teeth can erupt (Turner S et al.,2021).
It can affect both adult and baby teeth and is a common reason for referral to an orthodontist(Turner S et al.,2021).
Crowded teeth can affect a child's self-esteem and quality of life (Turner S et al.,2021).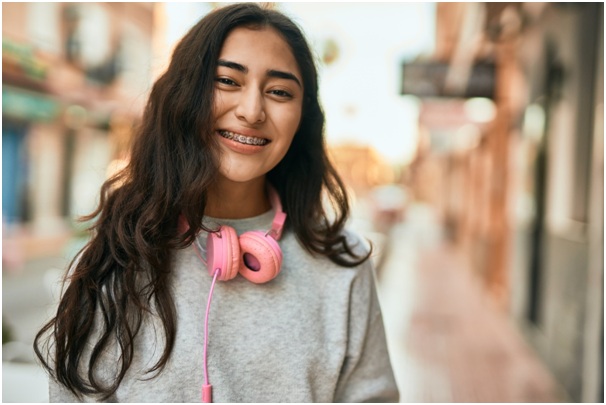 How do braces work on crowded teeth?
The concept of braces is actually quite simple. Pressure is exerted on the teeth, whether in the form of metal brackets or through something like Invisalign clear aligners. This pressure will, over time, shift and move the teeth into their new corrected positions. This is a very slow process and is similar to any kind of skeletal repair, such as when the individual gets a cast
It can take weeks or months for the bones to heal correctly, and the case of your teeth, which are also part of your skeleton, they will take weeks, months, and in some cases years to move into the correct positions, depending on the severity of your condition, how quickly you sought medical assistance, and your age
All these are going to be major contributing factors which can affect how quickly your braces treatment will work for you. When it comes to fixing crowded teeth, other factors may be space in your teeth, such as gaps in the back or in the front, but crowding in other locations. When this is the case, utilizing braces can help move the teeth into their new, correct positions, allowing for areas that are crowded to be moved to areas where there are gaps
How do braces work to straighten teeth?
As mentioned before, braces straighten teeth very much in the same way that they can fix overcrowding, by exerting pressure on the teeth over time so teeth that are crooked can be made straight. This will only work if there's actually enough space for the tooth in the first place. This is one of the reasons why straightening teeth and fixing overcrowded teeth are often times done at the same time using the exact same treatment
Sometimes crowding can lead to teeth that are not straight or crooked teeth can lead to crowding. Regardless of what the cause is, braces or the Invisalign system are very often the go to method of noninvasive to minimally invasive treatment when it comes to this type of orthodontic work.
How do braces work for overbite?
Overbite is when one's upper teeth overhang the bottom teeth. There can be many causes for this, but if the cause is due to something like a behavior, such as thumbsucking, then utilizing braces can help pull the teeth and jaw back into alignment. Whether braces will work for your overbite depends on your type of overbite. Some kinds of overbite cannot be fixed utilizing braces treatment, but to know for sure, talk with your orthodontic office who will help you determine whether you are a good candidate for this type of procedure.
How do braces work for underbite?
Braces will treat an underbite in much the same way that they treat an overbite, by applying pressure over time. It can help shift the lower jaw into a new position. Sometimes these situations require external headgear which may involve a strap either under the chin or behind the head to help exert even greater pressure which can speed up the treatment time
However, if your overbite or underbite is due to a skeletal deformity, you may require orthodontic surgery. Some individuals end up getting orthodontic surgery who otherwise could have avoided it if they had simply visited their orthodontic office sooner. When issues become too severe or are left for too long, it could be very difficult for even advanced treatments like modern braces to be effective to fix underbite with braces.
How long does it take to put braces on?
It only takes a couple of hours to actually install the braces themselves. However, the process to get there can be a little bit more time-consuming. You will, of course, have an initial consultation with an orthodontic office during which you'll discuss your concerns, your needs, and payment options, and in the vast majority of cases, these initial consultations are free of charge
Following that will be a general checkup where x-rays are taken, molds of your teeth are made, and of course, your dentist or orthodontist will take a look at and take some precise measurements of your teeth to develop a plan to help bring your teeth into the correct alignment
After this secondary meeting, your orthodontist will then schedule the actual installation of the braces themselves. First the brackets will be put on and once the brackets have set, the archwire will be attached. The time it takes will partly depend on the type of braces you get. If you're getting Invisalign, then the time is next to nothing as Invisalign does not permanently attach to the teeth, but instead clips over them. The treatment time may be slower because it exerts less force; however, it is less invasive, and so many adults prefer this option
If you go with lingual braces which attach to the back of the teeth, those ones often take the longest as it is more difficult to work behind the teeth then it is in front, such as in the case of traditional metal braces or ceramic braces. Whatever you choose to go with, your orthodontist will walk with you every step of the way, making sure that you have the best treatment for your needs.
How long does it take to get braces off?
This is partly dependent on the type of braces you got in the first place; however, generally speaking braces are actually quite quick to take off when done from an orthodontic office with the right tools, usually taking less than an hour. There are some individuals who postulate that it is so simple to take them off an individual should do it at home, but this is always a bad idea to take one's dentistry into your own hands. While it may look and seem simple, that is only because an expert spent years at school to make it look simple
Removing braces needs to be done carefully and delicately with the correct instruments and the correct experience or else you can seriously damage your teeth, chip your enamel, and cause huge orthodontic problems. It is always best to have a professional take them off.
To learn more, we hope you will visit ivanovortho.com to book an appointment today.