It is important to speak to your orthodontist before deciding on any form of orthodontic treatment for your teeth. Whether that is braces, Invisalign, or any other form of orthodontic treatment. It is necessary that you have a good discussion with your orthodontist who can guide you on the specific treatments that would be most beneficial for your needs.
Lingual braces have specific advantages and disadvantages over all the other types of orthodontic treatment such as traditional metal braces, ceramic braces, or Invisalign. The overwhelming con is generally the cost of these braces
However, the main pro is that lingual braces are invisible because of the placement behind the teeth. Another advantage of lingual braces is that it is possible to watch your teeth improve in their alignment and transform, because they are not hidden behind brackets and wires as with the other types of braces.
With that in mind, here are some of what the experts of orthodontic medicine have to say on the topic of lingual braces near me.
Braces such as lingual braces aim to improve the position of certain teeth or the position of the upper and lower jaw to improve their alignment (IQWiG; 2006).
It's particularly important to keep your teeth and mouth clean if you have fixed braces (IQWiG; 2006).
These fixed braces remain in the mouth for the duration of treatment (IQWiG; 2006). The duration of treatment with braces can range from a few short months to years, depending on the severity of the condition that has been treated and patient compliance with orthodontic instructions and recommendations.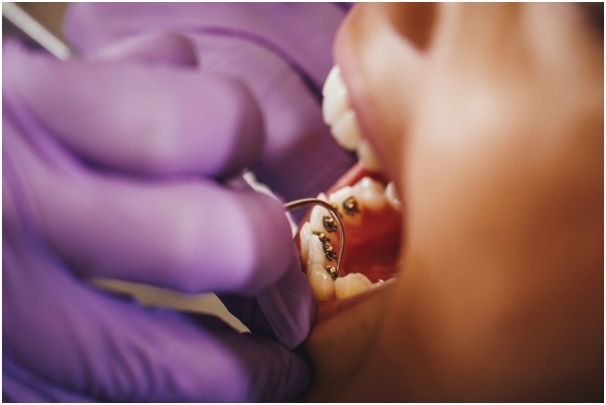 How Are Lingual Braces Applied?
Lingual braces are a type of fixed braces that are available to those who require orthodontic treatment. The application of lingual braces involves attaching orthodontic braces to the inner side of the teeth, which is how the lingual braces can have invisibility in comparison to traditional metal braces or other types of braces.
Orthodontic clinicians are highly trained in the application of braces and other orthodontic treatment. Lingual braces are applied using bonding glue to affix the brackets to the teeth. The brackets are all connected by a metal arch wire.
Lingual braces are customized braces specifically designed for your teeth and so it is necessary that your orthodontist take impressions of your teeth to ensure that they suit you perfectly. These impressions of your teeth are sent off to a lab that will take about a few weeks to create the perfect lingual braces for you. Once these have been made, then your orthodontist will apply your lingual braces.
Unlike traditional braces, these brackets have to be custom fit to the backs of your teeth, so they are unique to you.
How Much Do Lingual Braces Cost?
Lingual braces are one of the most expensive types of braces that you can get, but they have the advantage of being nearly invisible due to the placement in your mouth. The application and the individual customization for each tooth cause the cost increase.
In general, lingual braces cost typically between $8,000 and $13,000 and in addition to the customization of application, the materials, treatment time, and costs to make those brackets all add to the expense.
Another expense, which is not often taken into account initially, is the expense of replacing any broken or dislodged brackets. If your brackets need to be remade, they will have to be re-customized for your teeth, and that can cost more than anticipated. It is therefore important that you do all you can to ensure the longevity of your treatment.
They are a less popular treatment method, which means that they have a lower patient volume. Also, they may not always be covered by your dental insurance which will increase the cost to you out of pocket.
What Conditions Do Lingual Braces Treat?
Lingual braces are a type of fixed orthodontic appliance that are perfect for overcrowding of teeth, poor bites, and for other more simple problems, such as crooked teeth. It is important that you speak to your orthodontist who will examine your mouth before deciding whether you require lingual braces or not.
When you are done with treatment, you will have a great looking smile. To get an idea of what to expect, you can ask your orthodontist to see photos of lingual braces before and after.
 Who Should Get Lingual Braces?
This question is simple really because when it comes to lingual braces orthodontic treatment, only patients who require such treatment need to get lingual braces.
Furthermore, lingual braces should only be used by those for whom it has been specifically recommended by an orthodontist. Because of the placement of lingual braces, it is important to adapt good hygiene practices. Therefore, those who will get lingual braces must keep this in mind, and make sure they are diligent with oral hygiene, which includes avoiding foods and  drinks with high acid content or a high sugar content, and ensuring that they follow the recommendations of the orthodontist for dental hygiene like brushing your teeth and using flossers or water irrigation devices.
Additionally, any patient who has lingual braces will have to adapt their eating habits to make sure that they do not dislodge one of the brackets which could take more time and cost more money if a replacement bracket is required.
If you have any orthodontic conditions that require braces, lingual braces might be good for you.  However, before deciding that you require lingual braces, it is important that you speak to your orthodontist, and that a thorough examination of your mouth, teeth, jaws is performed.
Lingual braces are very expensive and it is necessary that these orthodontics are performed by specialist clinicians who have undergone the appropriate training to learn the techniques to fit and apply lingual braces.
To take the next steps, we hope you will visit ivanovortho.com and book an appointment with an orthodontist today to learn more about lingual braces near me.